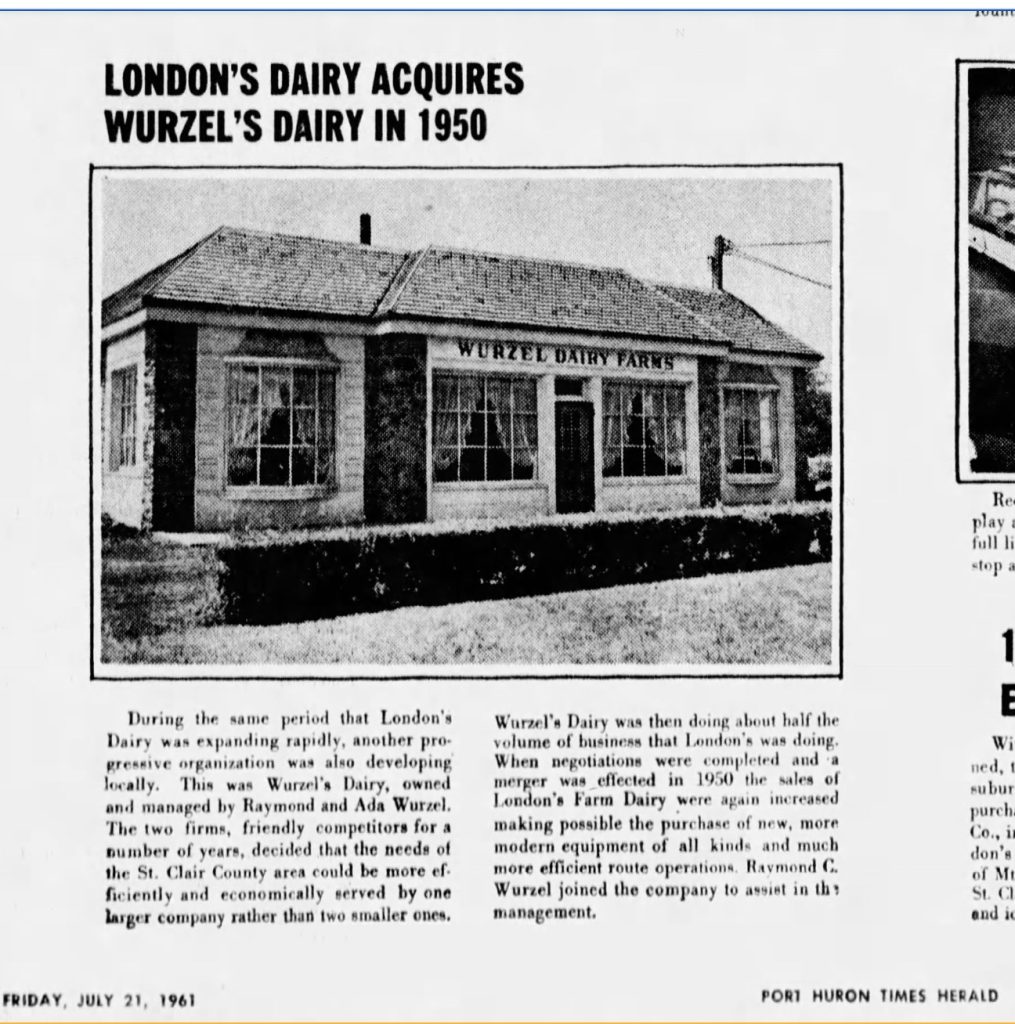 A group of friends opened the Milkhouse in 2007 with big dreams, 27 flavors, and three main goals in mind:
To provide high quality, hand-dipped ice cream in this area – filling the gap left by London's Dairy closing.
To train young people to have a strong work ethic, customer service experience, and other professional skills.
To have a dramatic and positive impact on the community and the larger Blue Water Area.

Located in front of the Wurzel's Flea Market building, the Milkhouse opened its doors in very same place Wurzel Dairy Farms opened the Colonial Dairy Bar in 1941. There the Wurzel family served high quality ice cream while giving farm and milk processing plant tours. The Milkhouse coffee shop proudly displays the original glass brick that lined what was once advertised as a modern new creamery "where milk is pasteurized and bottled without being touched by human hands." The Wurzel family operated the Colonial Dairy Bar until London's Dairy acquired Wurzel Dairy Farms in 1950.
For years, the Milkhouse remained one of the best kept secrets in our area. However, all that changed when a 2015 Facebook post featuring one of our delicious desserts went viral, attracting new customers from all over. Then we completely changed the game in 2018 when we introduced the ice cream taco, which quickly developed a huge following. Every Tuesday people line up out the door for delicious ice cream sundaes put into homemade waffle cone shells. The very next year, in 2019, we added delicious frozen custard to our menu and were voted Best Ice Cream in the Blue.
Over the years we've looked for ways to help out and support our local schools and community organizations through small gestures and lots of ice cream. In the summer of 2019 we hosted the first ever Ice Cream Saves Lives fundraising event to raise money for the Dive Team Auxiliary, the nonprofit organization that finances the St Clair County Sheriff's Volunteer Dive Team. It was an incredible success and we were able to help make a huge difference for these heroes helping to keep people safe on the water.
Finally, after years of doing community service projects and partnering with other organizations in the community, the Milkhouse Foundation was formed in 2022. This new 501c3 allowed us to better serve the community by providing an avenue to collect and donate funds, and bring support to a variety of nonprofits in our area that work hard to better the community. In addition to serving delicious desserts and fundraising for local organizations, over the years the Milkhouse has also provided internship programs for both high school and college students. Through these programs, young people have had unique opportunities to grow into their future professional careers. Whether it is serving customers or scheduling, ordering, and planning events, students have been able to develop a variety of skills and engage in unique experiences that have been helpful in promoting success in their chosen fields.
Today the Milkhouse features 40 flavors of hand-dipped ice cream along with vanilla, chocolate, and twist old fashioned custard. We hope to continue to provide new experiences and opportunities for our community through the Milkhouse Foundation, ice cream, coffee, and a new brick oven pizza counter in the future.